MORE ABOUT THE CENTER FOR SEASONAL WELLNESS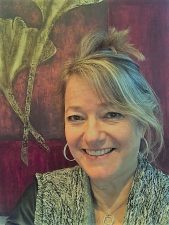 "After spending nearly 20 years working on Wall Street, meeting the stresses of city life and managing billions of dollars as a municipal money market trading desk manager, I learned what impact stress and the environment can take on each and every one of us. 
After an episode of back pain led to my experiencing the benefits of Eastern medicine and acupuncture, I immersed myself in the teachings of this several thousand year-old medical system and became passionate about sharing this knowledge to help as many people as possible. 
Now having practiced this holistic approach to wellness for over eighteen years, I strive to bring the best tools to my practice to help empower individuals to awaken their bodies' innate healing power.  
I feel the more people who know about these natural options to greater health, the more we will be able to advocate for ourselves and our families when it comes to our health. "
Karen is a Board certified and State of Connecticut Licensed Acupuncturist, Chinese Herbalist and Certified Dragon's Way Instructor.
Karen received her Master's Degree in Acupuncture (M.Ac.) from the New England School Of Acupuncture (NESA), is nationally certified as a Diplomate in Acupuncture and Chinese Herbology (Dipl. Ac., Dipl.CH) by the NCCAOM (National Certification Commission for Acupuncture and Oriental Medicine) and is licensed in Connecticut, New York and Massachusetts (L.Ac.)
Karen's Chinese Herbal certification was through a three-year NCCAOM approved program under her teacher Sharon Weizenbaum at White Pine Healing Arts in Amherst, MA. Karen has studied with the late Dr. Richard Tan on several occasions and utilizes his Balanced Method system of acupuncture almost exclusively in her practice.
Karen completed an extensive training under Dr. Nan Lu, Elaine Katen and Irma Jennings of the Tao of Healing to bring the principles of Traditional Chinese Medicine to a greater number of people through her six-week Dragon's Way meridian therapy qigong classes.  The Dragon's Way is a natural stress reduction and weight loss wellness program which began under Dr. Lu in New York City.  Karen currently holds Dragon's Way classes in Darien, Connecticut.
Expanding her expertise into the area of essential oils, Karen studied Chinese medicine and essential oil use for holistic practitioners with Peter Holmes, L.Ac., founder of Aroma Acupoint Therapy.